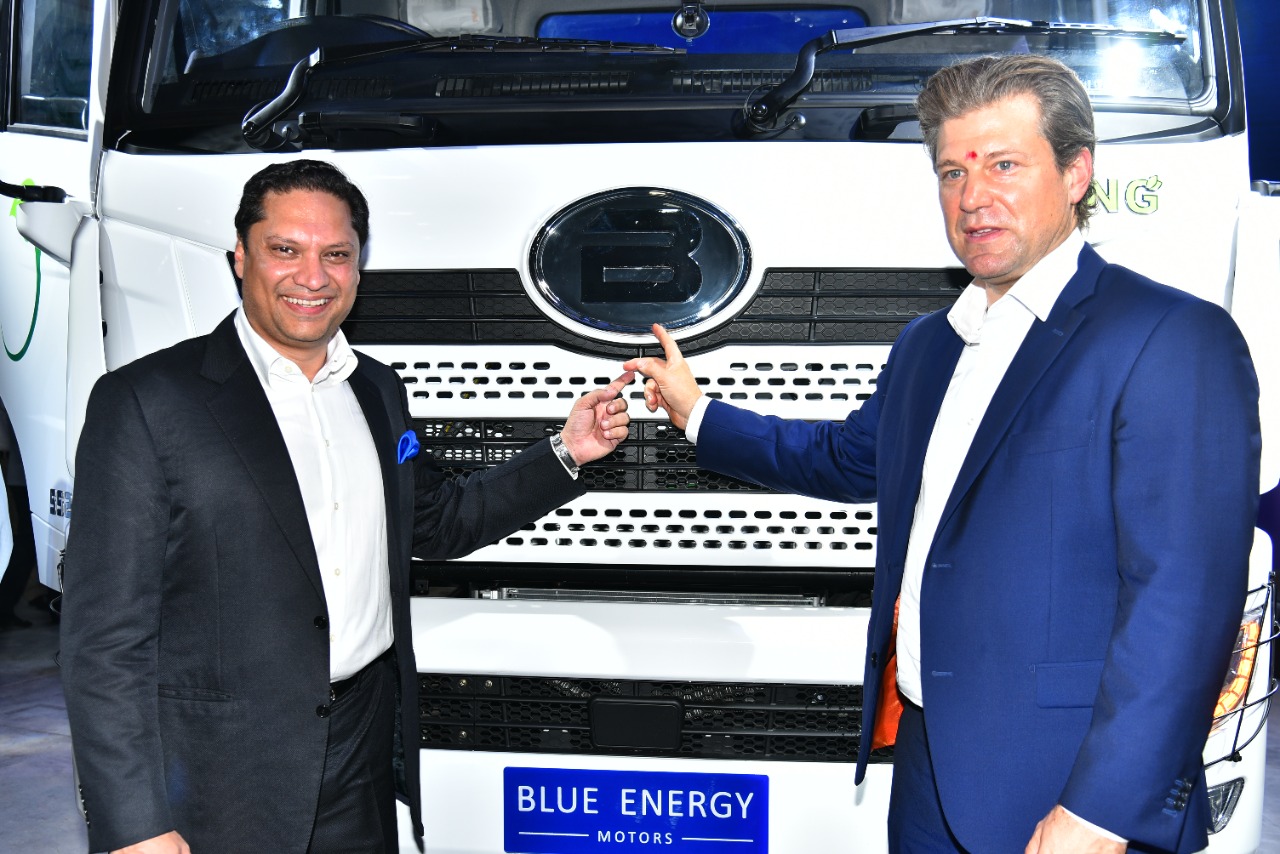 The 5528 4×2 trucks were launched in the presence of Mr Gerrit Marx, Global CEO of the IVECO Group and Mr Sylvian Blaise, President of Iveco Group's Powertrain Business
Pune, September 12, 2022: Blue Energy Motors launches India's first Liquified Natural Gas (LNG) fuelled green truck at its recently inaugurated plant in Chakan, Pune, today. With a keen focus on developing LNG as an alternate-fuel, Blue Energy Motor's heavy-duty and long-haul trucks powered by LNG are set to pioneer the green trucking revolution in India.
The market entry of the LNG-fuelled trucks is started with the introduction of 5528 4×2 truck as the first model. It was launched by Mr Anirudh Bhuwalka, CEO of Blue Energy Motors in the presence of Mr Gerrit Marx, Global CEO of the Iveco Group, Mr Sylvian Blaise, President of Iveco Group's Powertrain Business.
His Excellency the Ambassador Italy Mr Vincenzo de Luca also graced the launch ceremony.
Blue Energy Motors trucks are created and tested to meet the rigorous duty cycles of the Indian transportation sector. With technology partnership with FPT Industrial, these trucks provide best-in-class TCO with unparalleled riding comfort & safety for drivers throughout lengthy hauls.
The Blue Energy Motor's 5528 truck uses multipoint stoichiometric combustion engine which ensure best-in-class fuel consumption and lower noise than diesel engines. With 280hp power and 1000Nm torque, it is one of the most powerful natural gas trucks on the market and is compatible with CNG, LNG, and biomethane.
5528 4×2 truck has Industry's first 1000 lt fuel tank which provides the range of upto 1400 km in a single fill. With given long range, issue pertaining to range anxiety is well taken care of and with upcoming LNG dispensing network, sufficient coverage across key routes in the country will be existing without need of frequent refilling.
The company has installed capacity to produce 10,000 trucks / annum which can be augmented further as the eco system mature and demand ramps up.
Speaking on the occasion, Mr. Anirudh Bhuwalka, CEO, Blue Energy Motors said,
"India's first LNG truck, which we launched today, is our first step towards pioneering the green trucking revolution. We at Blue Energy Motors aim to decarbonize the environment by providing an immediate solution and breaking the barriers of economic returns". He added, "It is designed not only as an environmentally viable solution but will also be delivering to the business needs of customers. With near zero tail pipe emissions, our truck will help reduce CO2 up to 30%, compared to conventional solutions available in the market."
Gerrit Marx, Global CEO of the IVECO Group, said, "IVECO has been looking at Asia for meaningful partnerships, that provide it the chance to share technology, supply components to one another, or work on collaborative development projects. For our suppliers and customers, we want to be the OEM that is the easiest to work and to develop with. For Blue Energy Motors, we are powering the trucks that fit the needs of our buyers and the people who drive them. For us, sustainability does not only mean giving up on leather and wood applications but entails a push towards spreading the message within our society."
Sylvian Blaise, President of Iveco Group's Powertrain Business, said, "Blue Energy Motors' decision to work with us on this significant advancement in Indian commercial transportation takes us to the beginning of an exciting new journey. India is one of the major vehicle markets in the world, and it is a crucial agreement for FPT Industrial, because we can enable a green change with our cutting-edge technology and enable an ecological transformation."
The 5528 4×2 truck is built in the facility that reflects Blue Energy Motors's focus to disrupt the trucking industry in India by manufacturing clean energy, near-zero emissions trucks and was inaugurated earlier this month by Shri Nitin Gadkari, Hon'ble Union Minister of Road Transport and Highways.
About Blue Energy Motors:
Blue Energy Motors is disrupting the heavy-duty trucking industry by creating a clean alternative to decarbonize the environment by providing an immediate solution and breaking the barriers of economic returns. It's disruptive business model enables corporate customers to integrate next-generation truck technology, LNG fueling infrastructure and maintenance. By creating this ecosystem, Blue Energy Motors and its strategic business partners and suppliers are paving the way for zero-emission transportation and ushering in a green trucking revolution. Further information is available on the Company's website www.blueenergymotors.com
About Iveco Group:
Iveco Group N.V. (MI: IVG) is the home of unique people and brands that power your business and mission to advance a more sustainable society. The eight brands are each a major force in their specific business: IVECO, a pioneering commercial vehicles brand that designs, manufactures, and markets heavy, medium, and light-duty trucks; FPT Industrial, a global leader in a vast array of advanced powertrain technologies in the agriculture, construction, marine, power generation, and commercial vehicles sectors; IVECO BUS and HEULIEZ, mass-transit and premium bus and coach brands; IDV, for highly-specialized defence and civil protection equipment; ASTRA, a leader in large-scale heavy-duty quarry and construction vehicles; MAGIRUS, the industry-reputed firefighting vehicle and equipment manufacturer; and IVECO CAPITAL, the financing arm which supports them all. Iveco Group employs approximately 34,000 people around the world and has 28 manufacturing plants and 29 R&D centers. Further information is available on the Company's website www.ivecogroup.com
About FPT Industrial:
FPT Industrial is a brand of Iveco Group, dedicated to the design, production and sale of powertrains for on-road and off-road vehicles, as well as marine and power generation applications. The company employs more than 8,000 people, in 11 plants and 11 R&D centers. The FPT Industrial sales network consists of 73 dealerships and about 800 service centers in almost 100 countries. A wide product offering, including six engine ranges from 42 hp up to 1,006 hp, transmissions with maximum torque of 200 Nm up to 500 Nm, front and rear axles from 2 to 32 ton GAW (Gross Axle Weight). FPT Industrial offers the most complete lineup of natural gas engines on the market for industrial applications, with power that goes from 50 to 460 hp. This extensive offering and a strong focus on R&D activities make FPT Industrial a world leader in industrial powertrains. For more information, go to www.fptindustrial.com.
For more details, please contact:
Prakhar Saxena, Chief Marketing Officer, Blue Energy Motors
prakharsaxena@blueenergymotors.com
+91 (77188) 30080
Press Release