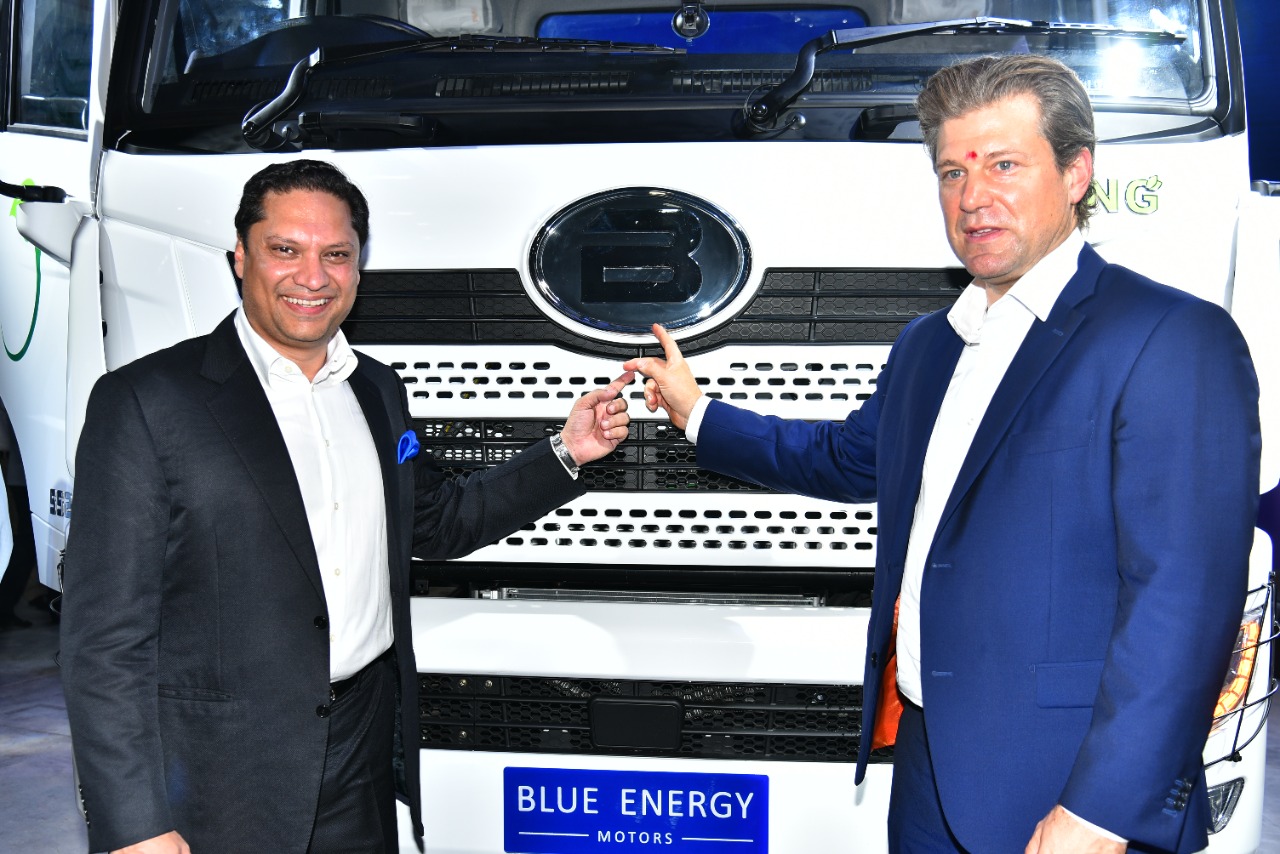 National, February 22, 2023: Blue Energy Motors, a zero-emission truck technology start-up headquartered in Pune, has successfully seen to the conclusion of the strategic investment by FPT Industrial, the global Powertrain brand of Iveco Group (MI: IVG). As part of the agreement, FPT Industrial has acquired a minority stake in the company Blue Energy Motors. FPT will be instrumental in strengthening the LNG trucks' application and jointly developing the next-generation heavy-duty Electric (BEV) Truck platform for the Indian market.
This strategic partnership aims at deploying innovative solutions in the Indian trucking segment to decarbonize the environment and pioneer the green trucking revolution. Blue Energy Motors recently launched India's first Liquified Natural Gas (LNG) fuelled Green Truck and inaugurated its plant in   Pune in   September 2022. With this partnership, Blue Energy Motors will be able to further strengthen its mission to decarbonize the transport sector in India, by jointly developing a heavy-duty Electric (BEV) Truck with FPT's  E-power train.
Speaking about this, Anirudh Bhuwalka, CEO said, "We are happy to announce the closing of the investment by FPT into Blue Energy Motors. This is a significant milestone for Blue Energy Motors. Strengthening our partnership with FPT Industrial will enable us to continue in the development of the company into a pioneer of clean and green energy solutions including a range of LNG & Electric Vehicles in the upcoming years. The investment demonstrates the full support of FPT Industrial in the growth of Blue Energy Motors and its ambitious plans to play a key role in India's march towards decarbonizing of the transport sector."
"This investment and our partnership is further evidence of FPT Industrial's commitment to advancing innovative technologies for sustainable mobility. We aim to provide transport solutions that allow customers all over the world to run their businesses efficiently and profitably while respecting the environment. We are happy and proud to be able to do this with our valued partner, Blue Energy Motors, in such an important country as India", said Sylvain Blaise, President of, the Powertrain Business Unit, Iveco Group.
The market entry of Blue Energy Motors LNG-fuelled trucks started with the inauguration of the smart factory at Chakan, Pune by Shri Nitin Gadkari, Hon'ble Union Minister, MoRTH and the subsequent  launch of the 5528 4×2 truck by Mr. Anirudh Bhuwalka, CEO of Blue Energy Motors in the presence of Mr. Gerrit Marx, CEO of Iveco Group, Mr. Sylvain Blaise, President of Iveco Group's Powertrain Business Unit, and His Excellency Mr. Vincenzo de Luca, Ambassador of Italy to India in September 2022. FPT Industrial is already providing its LNG engines for powering Blue Energy Motor's LNG trucks.
With this development, Blue Energy Motors will be able to bolster its position as a disruptor in the clean energy-fuelled heavy trucking space, pioneering the green revolution in the Indian trucking sector. The company will also be able to leverage FPT Industrial's expertise in e-powertrains, to develop next-generation heavy-duty BEV for the Indian market.
About Blue Energy Motors:
Blue Energy Motors, a zero-emission truck technology start-up is disrupting the heavy-duty trucking industry by creating a clean alternative to decarbonize the environment by providing an immediate solution and breaking barriers to economic returns. The company's disruptive business model enables customers to introduce next-generation truck technology into their fleets enabling transitioning into green transportation solutions. (Further information is available on the Company's website www.blueenergymotors.com)
About Iveco Group:
Iveco Group N.V. (MI: IVG) is the home of unique people and brands that power customers' businesses with a mission to advance a more sustainable society. The eight brands in its fold are each a major force in their specific business: IVECO, a pioneering commercial vehicles brand that designs, manufactures, and markets heavy medium, and light-duty trucks; FPT Industrial, a global leader in a vast array of advanced powertrain technologies in the agriculture, construction, marine, power generation, and commercial vehicles sectors; IVECO BUS and HEULIEZ, mass-transit and premium bus and coach brands; IDV, for highly-specialized defence and civil protection equipment; ASTRA, a leader in large-scale heavy-duty quarry and construction vehicles; MAGIRUS, the industry-reputed firefighting vehicle, and equipment manufacturer; and IVECO CAPITAL, the financing arm which supports them all. Iveco Group employs approximately 34,000 people around the world and has 28 manufacturing plants and 29 R&D centers. (Further information is available on the Company's website www.ivecogroup.com)
About FPT Industrial:
FPT Industrial is a brand of Iveco Group, dedicated to the design, production, and sale of powertrains for on-road and off-road vehicles, as well as marine and power generation applications. The company employed more than 8,000? people, in 11 plants and 11 R&D centers. The FPT Industrial sales network consists of 73 dealerships and about 800 service centers in almost 100 countries. A wide product offering, including six engines ranging from 42 hp up to 1,006 hp, transmissions with maximum torque up to 500 Nm, front and rear axles from 2, 45 to 32 ton GAW (Gross Axle Weight). FPT Industrial offers the most complete line-up of natural gas engines on the market for industrial applications, with power that goes from 50 to 460 hp. This extensive offering and a strong focus on R&D activities make FPT Industrial a world leader in industrial powertrains. (For more information, go to www.fptindustrial.com.)
For more details, please contact:
Prakhar Saxena, Chief Marketing Officer, Blue Energy Motors
prakharsaxena@blueenergymotors.com
+91 (77188) 30080
Press Release