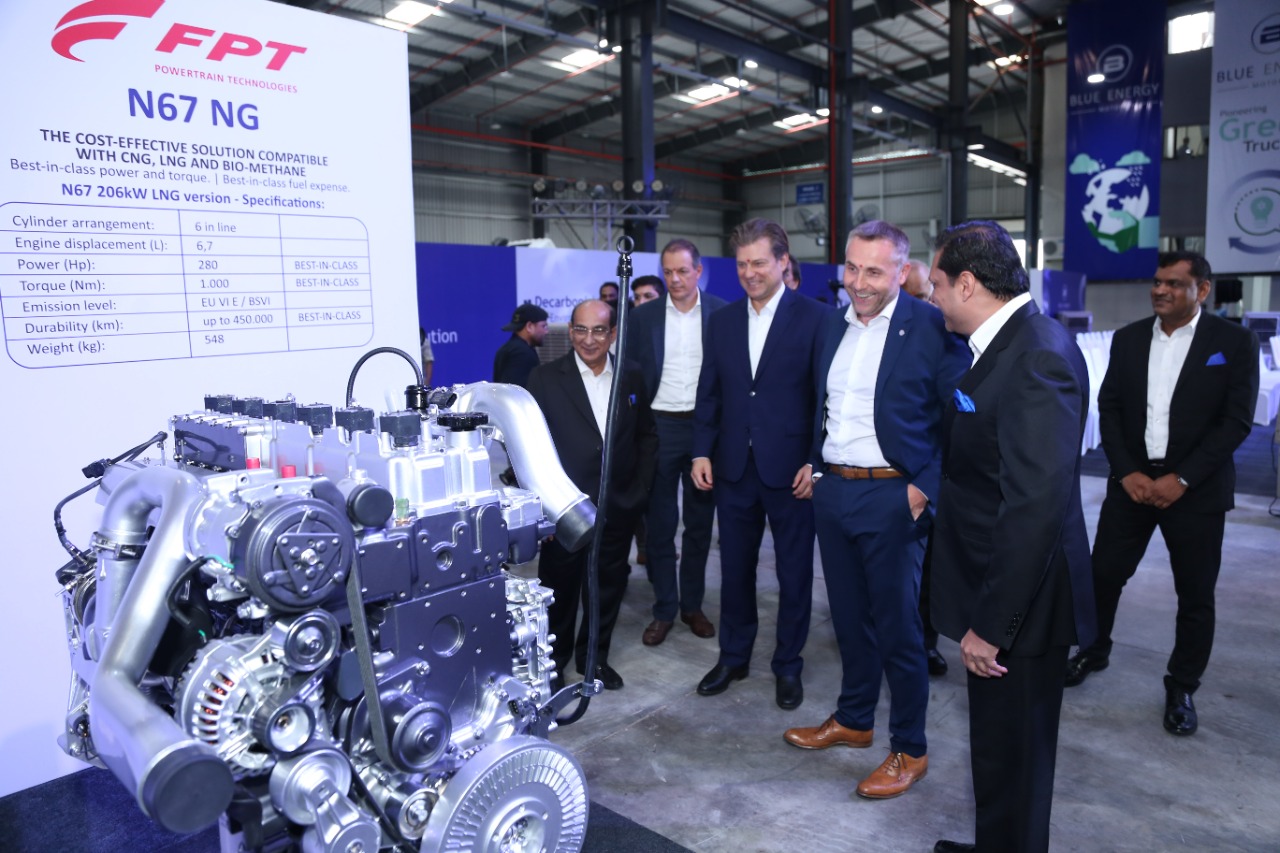 Blue Energy Motors, the Pune-based zero-emission truck technology company which launched India's first heavy duty LNG truck on September 12, has entered a strategic tie-up with FPT Industrial, the global powertrain brand of Iveco Group. As part of the agreement, FPT is set to acquire a minority stake in the company.
While the association is currently focusing on natural gas fuel applications, the two companies with strategic agreement in place will closely work on future technology deployments in the areas of electrification of heavy-duty trucks.
The market entry of Blue Energy Motors LNG-fuelled trucks started with the introduction of the 5528 4×2 truck by Mr Anirudh Bhuwalka, CEO of Blue Energy Motors in the presence of Mr Gerrit Marx, CEO of Iveco Group, Mr Sylvain Blaise, President of Iveco Group's Powertrain Business Unit, and His Excellency Mr Vincenzo de Luca, Ambassador of Italy to India on September 12. FPT Industrial, is already providing its LNG engines for the Blue Energy Motor's trucks.
With this move, Blue Energy Motors will be able to bolster its position as a disruptor in the alternate energy fuelled vehicle space, pioneering green revolution in the Indian trucking sector. They will also be able to leverage FPT Industrial's wide global network and automotive expertise to bring cutting-edge solutions for Indian customers while decarbonising the transport sector in the future.
Speaking about this, Anirudh Bhuwalka, CEO of Blue Energy Motors, said, "This is a momentous milestone for Blue Energy Motors. Strengthening our partnership with FPT Industrial will enable us to continue in the development of the company and to pioneer clean energy solutions including LNG & Electric in the upcoming year. The investment demonstrates the full support of FPT Industrial to the growth of Blue Energy Motors in its ambitious plan to play a key role in India's decarbonisation transition."
"This development in our partnership is further evidence of FPT Industrial's commitment to advancing innovative technologies for sustainable mobility. We aim to provide transport solutions that allow customers all over the world to run their businesses efficiently and profitably, while respecting the environment. We are happy and proud to be able to do this with our valued partner, Blue Energy Motors, in such an important country as India", said Sylvain Blaise, President, Powertrain Business Unit, Iveco Group.
Source :